7 benefits of Search Engine Marketing
by Umukoro Simeon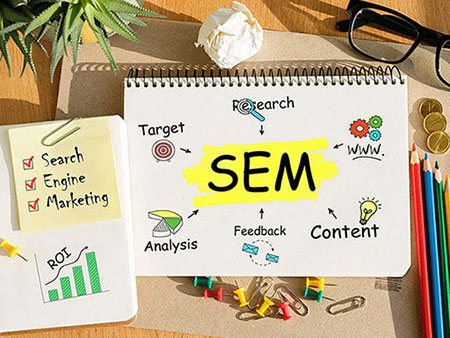 You might have heard the word Pay-Per-Click (PPC), Cost-Per-Click (CPC), Search Engine Marketing (SEM), Search engine advertising or Google Ad and you may be wondering what they mean?
Or you have wished your products or services would just pop up on Google first page just as others do when customers search for terms relating to what you offer to enable boost your sales and grow your business?
Don't worry, we've got you covered with the best strategy for getting your products or services to the top of the search results and convert more sales.
In this article, we will discuss "Search Engine Marketing (SEM)". What this means and some of its benefits and how you can use it to grow your business in an effective way. So, without any further ado, let's get started.
What is Search Engine Marketing?
Search Engine Marketing (SEM) is the promotion of products and services through search engine result pages (SERPs).
When someone searches for anything relating to a product or service on Google, the results that appears at the top and sides of the page with label "Ads" are examples of SEM because advertisers pay when someone click on them and that is why they are referred to as Search Engine Ad, PPC, CPC, Google Ad.
The other results without the label "Ads" are called organic results because it cost nothing to show and nothing when some click on them.
The most known and used search engine is Google, but there are other search engines like Bing, Baidu, Yahoo!, Yandex, DuckDuckGo.
Difference between SEM and SEO
The major difference between Search Engine Marketing (SEM) and Search Engine Optimization (SEO) is that -
SEM - Advertisers bid to get ranked high on search engine result page, and they pay when the Ads are clicked
SEO - Advertisers don't bid to get ranked, and they also don't pay when the results are clicked.
Google is the best when it comes to search engine marketing, through Google you can setup various types of Ads such as Text Ads, Image Ads, Video Ads, YouTube Ads and Shopping Ads.
Businesses like yours are already taking advantage of SEM as part of their digital marketing strategies to optimize their sales operations.
Here are 7 reasons why you should start SEM if you haven't
#1. High conversion rate
SEM is targeted to people who are actively searching for products and services, unlike other advertising medium that shows your Ad to people who may or may not be interested in your products or services. The chances of converting into sales is higher because they are interested in what you offer.
#2. Only pay when it converts
You only pay when someone clicks on the ad and that is why it is referred to as Pay-Per-Click (PPC) or Cost-Per-Click (CPC). When the Ad appears and no one clicks on it, you will not be charged.
#3. You don't need a website to start
You don't need a website to start advertising on search engine, all you need is your business phone number for customers to call you, business location if you want customers to visit your shop or office. You can also drive traffic to your website if you have one.
Need help setting up your SEM?
We're here to help you with setup and optimize everything you need to grow your business.
Talk to us
#4. Instantly visibility for products or services
Your products or services become visible instantly, it gets ranks higher and the ranking can go up to the top of search engine results page (SERP) if you have quality keywords and bid amount. Unlike the organic results (unpaid results) that Google screens with 200+ factors to determine their relevance, and take years to get ranked.
#5. You can target people near your business
You can set up your ads to only target people near the location of your business and filter out searchers who are far away because local audiences are eager to find businesses in their area.
According to Google - 'near me' and 'where to buy' queries have grown by 200% on Google over the past two years. When customers see Ads, they are most likely to visit shop or office if it is close to them.
#6. You can reach your ideal audience
It allows you to target your ideal audience with your brand message. You can optimize your Ad to give you visibility and reach customers who are likely to engage with your business. For example, let's say you want your ad to target a young, you can find out what keywords they're searching for, then target them with relevant content.
#7. Easy to setup and manage
It is relatively easy to setup and manage. You can create different ads, set budget and schedules how long you want them to run, pause or stop them any time you want. This flexibility is one major advantages of SEM.
Google Ads give you instant access to information like top-performing keywords, impressions, and click-through rates as well as tools that allow you to measure the performance of your ads and optimize your strategy to run more effective Ads.
Want to grow your business?
Let's help you create marketing strategy tailored for your business and budget to optimize your sales.
Call us now
You have seen how SEM help businesses get more phone calls, increase store visits and drive website traffic, especially when it is managed successful by someone who understands the nitty-gritty of SEM.
If you sell a product or service, and you need start advertising on search engine even if you don't have a website to drive traffic to your business.
We hope the blog was helpful and you enjoyed reading it.
If you need help setting up your Search Engine Marketing or you want our team to just do your search engine marketing for you, call us
---
Have your say in the article
---