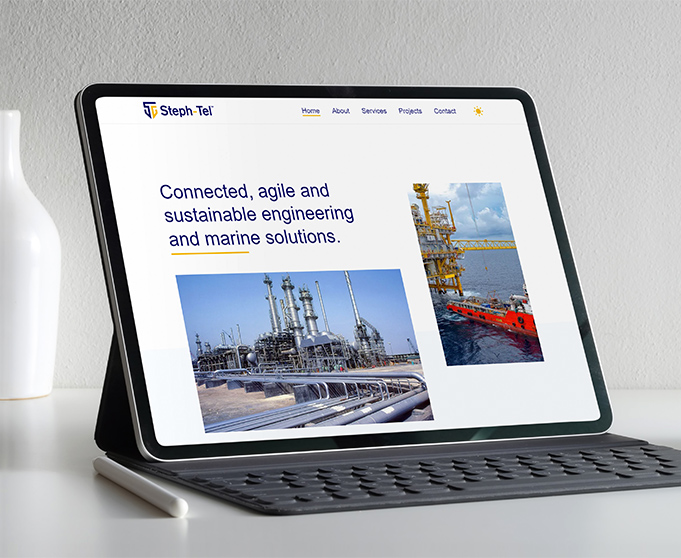 Steph-Tel Group Ltd is an innovative engineering, marine logistics and technical consultancy company with ISO 9001:2015 quality management system and ISO 14001 environment management system certification whose capabilities exceed work in the oil and gas industry, upstream and downstream sectors.
Recognized by relevant authorities in Nigeria and supported by industry-leading partners in Africa, Europe and Asia; Steph-Tel Group offer connected, agile engineering, marine logistics support, pipeline maintenance, fabrication, instrumentation control and procurement services to clients.
Brand strategy
Logo redesign
Content writing
Business card
Company profile
Website design
Search Engine Optimisation
Social media marketing
Steph-Tel Group Ltd contacted us to help them design website, after a brief conversation Mr Nelson Ughara, Steph-Tel Group MD, he realised that what they needed is more than a website.
After meeting with Steph-Tel Group Team, we were able understand what they really want to achieve. They needed a comprehensive brand strategy including logo redesign, website and marketing to enable them establish themselve as a leading engineering, marine logistics and technical consultancy company in Nigeria and across the world.
"We need to be out there you know, we need to be seen as an expert to attract more partners and bid for more contracts" Nelson Ughara.
Steph-Tel Group Ltd now has a new logo that is simple, versatile and distinct, which can be used coherently to represent the brand across various platforms - digital and print.
The website is a Progressive Web App (PWA) - Fast loading, secure and installable (on mobile and computer) website with micro animation, seamless interactions and bright/dark theme. We also setup schema markup and embedded their Google Business Profile map on the website to enable search engines like Google and Bing better understand the content of their website and other brand assets - Logo, Facebook page, etc.
You can visit Steph-Tel Group website - www.stephtelgroup.com
The logo is superb, I love the business card, I can feel the quality. Everything is perfect.
You are the professional, I believe your work.
Thanks my brother, I am grateful.